Problem:
DTR Medical needed assistance in developing a sharp cutting jaw for a new single-use Cervical Rotating Biopsy Punch for healthcare providers to use when testing for cervical cancer. The new instrument would replace traditionally used Tischler Biopsy Punches sourced from the Far East, which came with high costs and unreliable lead times. Such conditions were not suitable for work of such importance.
Solution:
CMG's Metal Injection Moulding (MIM) technology is the perfect platform for innovation. CMG used this process to help develop the new instrument using Stainless Steel 17-4; the strength of this type of metal allowed the jaws produced to secure a clean cut of tissue from first use. By reducing error and waste, the mass-produced instrument CMG and DTR Medical designed was both high-quality and low-cost.
Summary:
MIM allows for the creation of intricate products which require a high level of detail in design. In the case of DTR Medical, ensuring the instrument was efficient and safe was imperative due to the importance of the work it was intended for.
The product was introduced to bring manufacturing of this crucial product to the UK to provide a reliable supply with faster lead times, proving that CMG assisted in solving an issue within the UK healthcare sector. 88% of clinicians are prepared to recommend the award-winning collaboratively designed device to colleagues.
What is CMG's input?
CMG's material of choice, Stainless Steel 17-4, is renowned for its combination of supreme strength and sound mechanical properties at temperatures of up to 600°F.
Using this material, CMG adjusted the mix of metal to develop the rotating instrument, creating top and bottom jaws with a tight tolerance that allowed for a clean cut of tissue at the first attempt. This efficiency benefitted both the gynaecologist and the patient in hand.
DTR Medical's new product was quickly recognised within the medical industry for its high quality and cost-effectiveness. The company has experienced a 77% increase in its global customer base of this instrument in the last three years and received the MediWales Innovation Award for the instrument.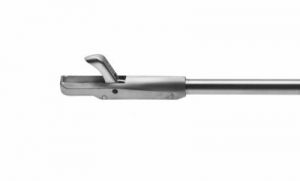 Rachel Garrett, Managing Director of CMG Technologies, said:
"CMG Technologies is delighted that the MIM process has helped DTR Medical to develop an innovative product that has benefitted healthcare providers across the UK and overseas, resulting in company growth and an industry award.

Working with DTR Medical has been an absolute pleasure. Pairing their vast experience in the healthcare industry with our application of pioneering technology led to a very effective partnership."

We are passionate about working with companies who seek to bring about life-changing impacts with their work. The positive effect of our problem-solving during this project has been enormous."
A spokesperson at DTR Medical, said:
"I am extremely grateful to CMG Technologies for all their input and hard work into developing the cervical biopsy punch – a market leading product that helped us to win the MediWales Innovation Award 2012, by ensuring we are able to provide consistent high clinical value to all our customers at affordable costs.

"This would not have been possible without using the MIM process, which also offers us the potential to improve price and capacity as volume grows, providing greater benefit to healthcare providers with increased demand."
What is MIM?
CMG is one of the only manufacturers in the UK that offers MIM even though the method itself has been around since the 1970s.
It offers a manufacturing capability of producing precise, complex parts in large quantities in metal – and therefore greater design freedom than many other production processes.
It works by mixing metal powders with polymer binders to form a "feedstock". This "feedstock" makes the mixture capable of being handled by plastic processing equipment before the "feedstock" is then burnt away, leaving behind a solid metal component.
This flexibility means you can integrate several elements into a single moulded net shape piece, incorporating texture, knurling, threads, lettering and company logos.
CMG is no stranger to making components for medical products. It manufactures 40,000 scalpels a month for the NHS and has recently been part of the national effort to make critical parts for ventilators during the COVID-19 pandemic.