The team at CMG Technologies work tirelessly to continue to deliver the high-quality service the company is known for. Here, Managing Director Rachel Garrett, explains why she thinks staff socials are important to treat them for their hard work.  
I'm constantly in awe of the incredible work our team completes for our clients, they work so hard every day. 
It is thanks to their contribution we have many happy customers, as well as having a growing portfolio. 
Work is something we all have to do so we can pay our bills and do the things we like. However, it can easily take over our lives – after all, we spend most of our time working! 
Creating a balance between work and play is so important for us, physically and mentally. So, in addition to working a four-day week, we look to arrange staff socials outside of the workplace. So, there is always something to look forward to in the calendar! 
During the summer, we treated the team to a glorious day out on the River Orwell aboard Sailing Barge Victor.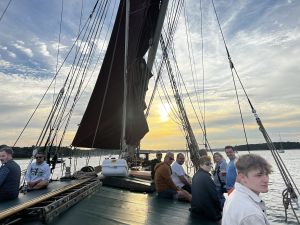 It was a great opportunity to socialise with each other. Not only that, but it also gave us a chance to relax – something we can all benefit from in our busy lives! 
While arranging staff socials and treats for the team gives us something to look forward to outside of work, it has its professional benefits too. 
Activities like the boat trip help boost morale which in turn helps maintain the impressive productivity of our team. It also helps improve communication with each other. We are lucky to already have a team which is more like a family, but staff socials like these help cement that. 
As Christmas approaches, we've already arranged a dinner and party on the company at Trinity Park – and we can't wait! 
I'd like to thank the team for their great work and the environment they have helped create at CMG Technologies. 
You can meet them here.