The UK's leading metal injection moulding specialist, based in Suffolk, has invested more than £250,000 in machinery to grow its MIM and 3D printing services.
CMG Technologies has purchased a brand-new ECM furnace and state-of-the-art 3D printer by 3DGence.
The new machinery, worth more than a combined £250,000, will allow the company to bolster its world-renowned metal injection moulding (MIM) services and it's new and already popular venture into 3D printing.
Rachel Garrett, Managing Director of CMG Technologies, said: "We're very excited to be able to expand on the technology we already have here at CMG.
"Not only will the furnace be a beneficial addition to our MIM operations but it, along with the printer, will also support our growing 3D printing services.
"This industry and the technologies involved are ever-evolving, so this new machinery will help us stay ahead of the curve and offer more support to our existing and new clients."
The new technology is in addition to the four furnaces and four 3D printers already in use at the Rendlesham-based factory.
CMG Technologies is the world's first company to debind and sinter MIM and 3D printed parts in the same oven, providing an efficient and more sustainable service.
Since late 2021 the company has been offering 3D metal printing services from initial design to post-processing of the product, which involves the removal of binders from the part which is then heated at high temperatures to leave a dense and durable component.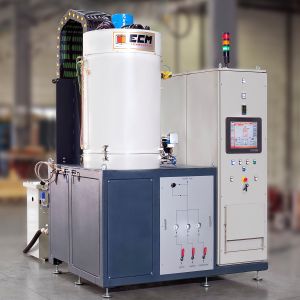 Dr Samuel Wilberforce, Head of 3D Printing, said: "Additive manufacturing is a complimentary technology to our extensive MIM services.
"By using 3D printing, we can create prototypes and moving parts far quicker than traditional methods, while keeping waste to an absolute minimum.
"Thanks to these additional machines, we will be able to offer more services to clients across the world – from design to printing or just the post-processing of parts to create a dense metal end-product."
CMG has also created its own range of metal feedstock filaments in-house, under the name CMG Tech-X, which is available for companies to use for their own additive manufacturing.
The company has been working closely with 3DGBIRE since September 2021 to provide post-processing support to its customers and is keen to support other firms with their expertise.
To find out more about the services CMG Technologies provides, please sales@cmgtechnologies.co.uk.